Rent the "Garden Cottage" at Hershey Gardens!
Whether it's a child's birthday or a special event, celebrate it surrounded by beauty at Hershey Gardens! Bring your group to enjoy the picturesque Garden Cottage and its quaint patio, which sits on a hill overlooking the gardens.
Please note: the Garden Cottage is not available for rentals until after January 13, 2023.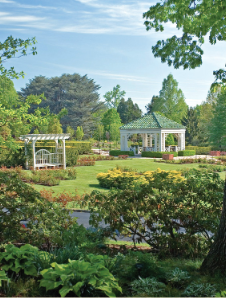 A $300 rental fee ($275 for members) includes admission for 10 guests. Additional guests are $10 for juniors (ages 12 and under) and $13 for adults/seniors.
$75 deposit required to reserve. Deposit is refundable if reservation is canceled at least 48 hours in advance.
The rental fee includes use of the Cottage from 10 a.m. – 4 p.m.
Event guests are welcome to visit the Butterfly Atrium and explore the Gardens during and after the event, during normal operating hours.
Renters may bring their own desserts, snacks and beverages.
A variety of catering options are available through our exclusive caterer, Lisa's Cafe on Chocolate. Please contact them directly at 717.508.1729. Please note that all food items must stay inside the Garden Cottage.
The following items are not permitted:
Balloons and glitter
Sports equipment and toys
Alcoholic beverages
Email or call Vera Kolstrom for more information or to check availability:
velkolstrom@hersheygardens.org or 717.508.5970.