Proud Winner of the HHRVB "Partners in Tourism Awards" for New Attraction of the Year
Perched atop the Gardens and overlooking the historic rose garden, its design harkens back to the conservatories Milton and Catherine Hershey built in the early 1900s.
The conservatory features three distinct areas:

Butterfly Atrium
Educational & Horticultural Wing
The Welcome Pavilion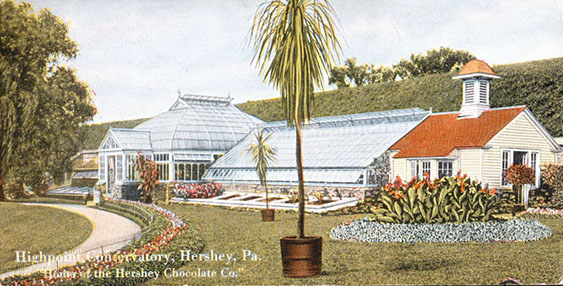 A Proud History
In the early 1900s, Milton and Catherine Hershey built glass conservatories as a way to display plants in the winter. The conservatories soon became a popular destination for visitors to enjoy the beauty and variety of springtime and tropical plants during the cold, winter months. Featuring plants such as palms, ferns, bay trees, azaleas and boxwood, the displays reached their colorful peak at Easter when the foliage exploded with colorful primroses, flowering annuals and spring bulbs such as daffodils, tulips and hyacinths.
A conservatory was built adjacent to the Hershey's home, High Point, in 1909.